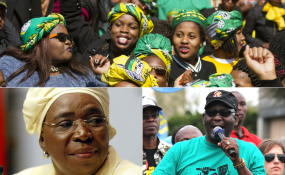 Photo: allafrica.com
Top: ANC supporters. Bottom-left: Nkosazana Dlamini-Zuma. Bottom-right: Zwelinzima Vavi.
By Peter Dube
Former South Africa trade union leader Zwelinzima Vavi has warned that should President Jacob Zuma's preferred candidate win in the December ANC election, it could lead to the break-away of affiliate parties.
His caution comes as pressure continues to mount on the ruling African National Congress party leader to step down over corruption allegations.
The ex-secretary general of the Congress of South African Trade Unions (Cosatu) Mr Vavi said ANC alliance partners are likely detach if the ruling party members elect Nkosazana Dlamini-Zuma, the president's former wife, to succeed him.
The affiliate partners include Cosatu and the South African Communist Party (SACP).
"They won't walk away now but they are more likely to do so if Dlamini-Zuma wins. I think they are waiting for a Ramaphosa victory," he told Huffington Post.
However, Mr Vavi is certain that while both SACP and Cosatu want President Zuma to quit office following his controversy-ridden second term, that is not enough to cut ties with the governing ANC.
The two groups have repeatedly made calls for President Zuma's resignation while backing his deputy Cyril Ramaphosa to succeed him.
Last week, SACP termed President Zuma's latest cabinet reshuffle that left out its party leader Mr Blade Nzimande, who was the minister higher education minister, as a "declaration of war".
Cosatu has urged ANC to reflect on its decision saying it found the frequency of Cabinet reshuffles "unsettling".