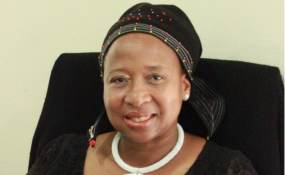 Photo: Department of Women
Reshoketswe Tshabalala, acting director general of the Department of Women in the Presidency
ANC MP Grace Tseke "can't write a good story" about the Department of Women in the Presidency.
Large payments to facilitators for national dialogues and overseas trips raised eyebrows in the Portfolio Committee on Women on Tuesday when the department presented its third and fourth quarter report.
The national dialogue on gender-based violence in the Eastern Cape cost R1.78m, with R496 887,30 going to the facilitator. A similar event in Mpumalanga had a bill of R1.41m, with R496 631,50 going to the facilitator.
There was also a national dialogue event in the North West that cost R955 664,08, but this did not include the fee for the facilitator, "because the service provider was requested to revise the invoice in line with [the] actual number of dialogues that took place", according to the presentation to the committee.
R2m trip to New York
A departmental delegation of eight also took a trip to New York for the 62nd Conference on the Commission on the Status of Women, which cost more than R2m. Out of this amount, R1.168m went to accommodation and ground transport, while air travel cost R756 336, and travel and subsistence, R125 591,16.
There was also a trip to Mauritius with a four-person delegation from the department which cost R178 040 for the 3rd Edition of UNESCO Merick Africa, and the Merick Africa Asia Luminary in Egypt of R148 660,62, also for four delegates.
Acting director general Reshoketswe Tshabalala said these dialogues lasted almost an entire week and that they had to provide the attendees with meals.
"The principle of nothing about us, without us, applies," she said.
Regarding the travel expenses, she said it might seem that they're "just gallivanting" overseas, but South Africa had signed several treaties, and were therefore obligated to attend these events.
Tseke asked why they employed facilitators when the department had its own staff.
"I've got a very serious problem [with this]. You're letting me down, department. You're always complaining that you don't have a budget. It seems that you're playing with your budget," said Tseke.
She said it was unfortunate that Minister Bathabile Dlamini was not at the meeting. The committee heard earlier that Dlamini had offered her apologies, as she had to attend to "urgent" Cabinet matters.
'I think people are milking the system'
DA MP Denise Robinson said they really had to look at the exorbitant travel costs, while agreeing that the department should attend these events.
"We've got to start using our taxpayers' money properly," she said. "We don't have to live in the lap of luxury."
She shared Tseke's concern about the facilitators.
"I think people are milking the system. We cannot afford it," she said.
Tshabalala said the dialogues programme had been led by the previous minister, Susan Shabangu.
"There was no staff, chairperson," she said. She said there were several acting deputy directors general in the department and they had deemed it fit to bring in a service provider, which included social workers.
The service provider is Lefika la Phodiso.
The committee also heard that the new approach would be to use a local service provider to save on the facilitator's transport costs and that the new minister, Dlamini, also had her own ideas about how these dialogues should be conducted.
Tseke said the committee should attend the next dialogue.
"Because I'm not convinced. For me, it doesn't make sense to appoint a service provider," she said.
"I think it is our responsibility as Members of Parliament to conduct oversight over this department."
"Why pay service providers? I'm sure a lot of money goes to them and not our people."
Tseke said she had served in the committee since its inception when she became an MP in 2009, and it seemed they were always discussing the same matter.
"I cannot write a good story about this department," she said.
Source: News24