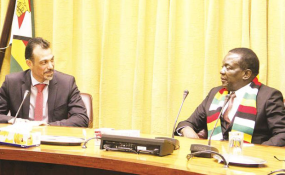 Photo: John Manzongo/The Herald
President Emmerson Mnangagwa meets Coca-Cola East and Central Africa general manager Ahmed Rady in Harare.
By Fidelis Munyoro
The world's largest beverage company, Coca-Cola Company has promised to invest $65 million in the country over the next three years as Government's "Zimbabwe is Open for Business" mantra continues to yield results.
Many Western countries are keen to invest here following President Mnangagwa's administration's clarion call to restore relations with the Western community.
Yesterday, Coca-Cola's East and Central Africa managing director Mr Ahmed Rady met President Mnangagwa and Vice President Constantino Chiwenga separately and tabled the company's business plans and future investments.
Mr Rady was accompanied by Delta Corporation chairman Mr Canaan Dube, Schweppes chairman Mr Sternford Moyo and the company's managing director Mr Charles Msipa as well as Mutare Bottling Company chairman Mr John Gould.
Speaking to journalists after the closed-door meeting, Mr Rady described his encounter with President Mnangagwa as tremendous.
He said the meeting presented them with the opportunity to renew their commitment to President Mnangagwa about their investments in Zimbabwe.
"We shared with them some of our business plans and future investments we are doing as well as our plan to make Zimbabwe an export hub, especially for our beloved Mazowe, many other juices and new innovation products that we will reveal soon," said Mr Rady.
"We also discussed how we can together go into integration of local production and the sourcing of local raw material especially oranges for our orange juice and maize, and hopefully in the future coffee and many other ingredients that we use in our portfolio of products."
Mr Rady said the acquisition of SABMiller by Belgian-American firm, Anheuser-Busch InBev will not affect Coca-Cola operations.
"We are working with our local markets Delta, Schweppes, Mutare Bottling Company," he said.
"The shares of SABMiller have been moved on to some of our local partners here and across Africa."
Delta Corporation, Schweppes and Mutare Bottling Company hold franchises to produce brands belonging to Coca-Cola Company internationally.
Mr Rady, however, said the presence of Pepsi in the country will not in any way affect their business here saying the company would provide it with competition which is health for business.
"Zimbabwe is open market for business. Will do our best to compete with other beverage making companies."
Acting Minister of Industry, Commerce and Enterprise Development Patrick Chinamasa said the company appealed to Government to avail at least 2000 hectares of land for agriculture for production of oranges.
He said the company is also into agriculture, coffee, tea among other agriculture productions.
"In our discussions we were emphasising on the sourcing of local materials," said Minister Chinamasa who is also Minister of Finance and Economic Development.
The company, said Minister Chinamasa was also considering setting up local companies to produce local raw materials for throughout into its operations.
"We have discussed the issue about allocating land to them to produce oranges. They have asked for 2000 hectares of land and we have committed ourselves to accede to their request."
Several foreign companies have over the past five months come Zimbabwe to explore business opportunities offered by the country under the new dispensation.
The new administration has already attracted $11 billion Foreign Direct Investments commitment after it announced sweeping investment reforms that are already underway to attain a middle income economy by 2030.